While encoding a new payment you receive this warning message.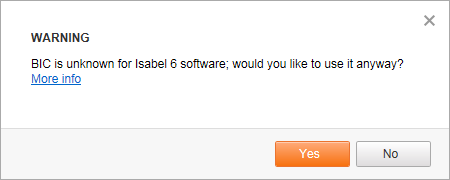 "Warning: BIC is unknown for Isabel 6 software; would you like to use it anyway?"
Isabel will show this message if the BIC of your beneficiary, is not from a bank connected to the Swift network. If you are sure the BIC is correct you can confirm this message. Unknown BIC's are usually the case when creating NON-SEPA payments.

You can verify if a bank is connected to the Swift network by using the search on the website of Swift.com. Isabel will update the list of known BIC at a monthly basis. If the used bank is connected but not known by Isabel, it will be added during the upcomming month.
Remark: If you encode a payment using a wrong BIC, the bank may count additional costs for this payment or reject it. Please contact your beneficiary in case you are unsure of the used BIC.