You receive this warning when you try to login into the Isabel 6 application:
The version of Internet Explorer used to access the Isabel 6 software is not supported anymore. The webpage may not be displayed correctly and some features may not be accessible or not functioning properly.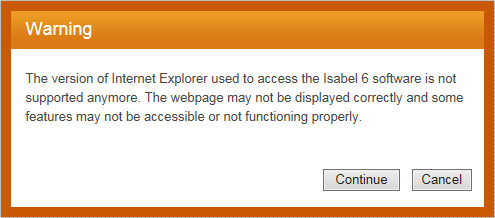 RESOLUTION:
This problem appears when your Compatibility View settings are not correctly defined.
To avoid this issue:
You can turn off compatibility view for Isabel 6 in Internet Explorer by following the steps below:



Use the key combination Alt+X to open the Tools menu of Internet Explorer.

In the menu, select the Compatibility View Settings item.

In this Window, remove Isabel.be from the list "Websites you've added to Compatibility View:".
Deselect all options at the bottom of this screen like Display all websites in Compatibility View and Display intranet sites in Compatibility View.
Once disabled you might need to close Internet Explorer and open it again.






In case the issue persists or Compatibility View is already disabled (or not available), verify the used Document mode: