When you try to access Isabel 6, you see a Suspended button beneath the Isabel 6 logo.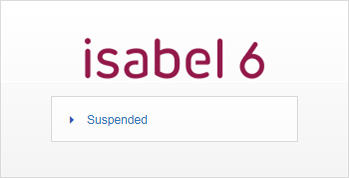 When you click that button, a message appears that your access is blocked due to unpaid Isabel invoices. If you are unsure about the reason of suspension, please contact our Isabel Customer Care Department.
If you are suspended due to open invoices, we invite you to send a proof of payment to customercare@isabel.eu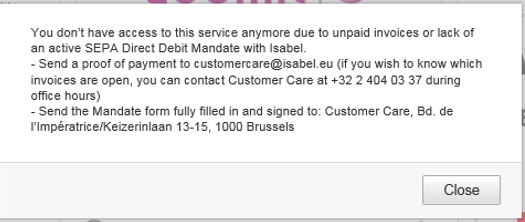 All invoices will be paid by the customer using a direct debit arrangement as stated in article 7 of the Isabel General Terms and Conditions.
If an invoice should remain unpaid or the direct debit instruction is interrupted, Isabel will send reminders in order to pay the unpaid invoices and fix any problem with the direct debit agreement.
Isabel will block the access to Isabel 6 if the invoices remain unpaid.
The access to Zoomit to consult your invoices will remain accessible.